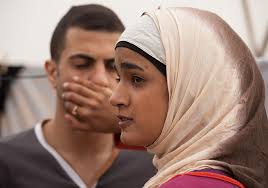 The Center for Media & Social Impact at American University is an innovation incubator and research center that creates, studies, and showcases media for social impact. Among the Center's activities include creative and cutting-edge media projects that address issues of misrepresentation, identity, and social change and to facilitate impact through media via issue briefs, fact sheets, and blogs, etc. As part of the Washington, D.C. Jewish Film Festival Fall Season Lineup (an expansion of the robust Film Festival), the Edlavitch Jewish Community Center is hosting screenings of diverse of films this Fall. The WJFF, now headed into its 27th year, usually runs in late winter/early spring but will be moving to May starting in 2017. It is one of the largest and most respected Jewish film festivals in North America and features an international exhibition of cinema that celebrates the diversity of Jewish history, culture, and experience through the moving image. The films and programs presented are truly as diverse as the Jewish experience. In addition to the main festival, there is also an ongoing, year-round film series, including now in the Fall months, with such films such Sand Storm. The festival serves over 15,000 people with more than 80 screenings annually, nearly all of which are regional, US or world premieres. Most screenings are followed by discussions with guest filmmakers and subject matter experts. Also included in this supplemental season is Seret DC, which features a diverse group of films and programs from Israel that represent contemporary Israeli life.
On Sunday night, October 9th, the Edlavitch DCJCC closed out its Seret D.C. series as part of the Washington Jewish Film Festival's Fall lineup with the excellent film Sand Storm. Seret (Hebrew for 'movie') D.C. features contemporary Israeli films that are especially diverse and presents recent films that highlight all of Israel's communities, especially those not always given a voice. Sand Storm is set among Israel's Arab Bedouin community, a population often marginalized, ignored, and living in poverty. The film is the recent Ophir winner for Best Picture and will therefore automatically become Israel's entry for Oscar consideration, making this the first time an Israel has nominated a film completely in Arabic.
Sand Storm's story centers on Layla (the excellent Lamis Ammar) a rebellious teenager whose father, Suliman (Hitham Omari) encourages her by taking her driving, allowing her to go to school, dressing in a Westernized manner, etc. This rebellious streak causes tension between Layla and her more traditional mother Jalila (the superb Ruba Blal), who works hard to take care of the home and children. To make matters more complicated, Layla has fallen in love with Anwar, a boy from school whom she wants to marry. Layla is convinced that Suliman will concede once he sees how much Layla loves Anwar, but since Anwar is from another tribe, this does not happen. Layla initially tries to go above her mother and to assert her power with her father but this backfires. Jalila, who has a tough exterior, tries to protect Layla from being disappointed and being embarrassed by the community. Her gruffness initially comes off as necessity but also selfish, however, the strong bond between the women is revealed as the film progresses.
To complicate things even further, Suliman has taken a second wife and Jalila must welcome her, host the women's part of the wedding, and help prepare her new home. The film is reminiscent of Zhang Yimou's classic Chinese film Raise the Red Lantern in this sense, however, viewers do get access to Suliman. Nevertheless, it is clear that this is a patriarchal where the men have all the power, at least in theory. Suliman is quite weak and is ultimately influenced by the women in his life and thankfully director Elite Zexer (in her directorial debut) does not present a one sided story but rather shows us the complexities of living in such a specific community. 
As the film progresses, it is clear that while Suliman is in charge, he loves his wife Jalila, even though he punishes her, and loves his daughter, even though he does not listen to her wishes. Zexer suggests that there is room for nuance but she doesn't sugarcoat the reality, and that is perhaps the film's strength. Ultimately, this male dominated society does not treat women equally to men but that does not mean the women do not have agency, and with every generation this changes. I would've like to see Zexer push this a bit more, but perhaps that would not have been realistic. It is also interesting that the film is Israeli, but only marginally so. Aside from one scene where Layla goes to school and one reference among the men about the government, there is minimal visual cues that the story is set somewhere in Israel. Despite the Bedouin being an integral part of society, the story could be set really almost anywhere in the Middle East where there is a desert and a community. All in all, Sand Storm is an engaging and interesting film and one worth checking out.