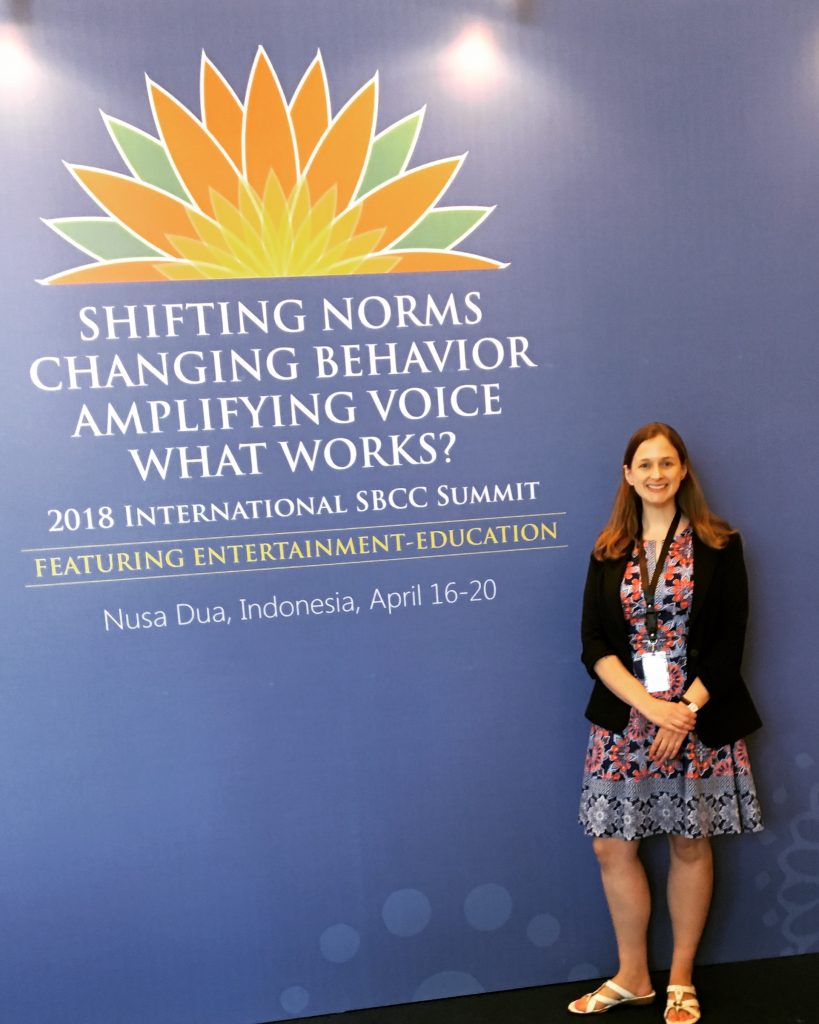 Dr. Amy Henderson Riley, Postdoctoral Fellow at the Center for Media & Social Impact (CMSI), was invited to present at the 2018 International Social and Behavior Change Communication (SBCC) Summit, Featuring Entertainment-Education. The five-day summit held in Nusa Dua, Indonesia brought together over 1,200 communication scholars and practitioners from 93 countries. Through keynote lectures, oral presentations, posters, and multimedia sessions around the theme of Shifting Norms, Changing Behavior, Amplifying Voice: What Works? the summit sought to address the challenges and successes in the field of social and behavior change communication.
CMSI's work with Univision and the "The Rise Up Media & Social Change Project" was selected for an oral presentation at the conference, which Dr. Riley was proud to present on behalf of a research team that also includes CMSI director, Caty Borum Chattoo, lead author and co-principal investigator; and co-PI Lauren Feldman, Associate Professor at Rutgers University. This was a wonderful opportunity to showcase the results of this collaboration, as well as present the development and programming side of this U.S.-based storytelling work to a diverse, international audience. This presentation was one of the few examples from the United States selected for the summit. Dr. Riley further represented CMSI and the American University School of Communication by presenting two other oral presentations and moderating a panel titled, "Talking About Tough Topics".
Social and behavior change communication (or SBCC, for short) is a research-based field that uses communication to engender change among individuals, families, and communities, and to inspire broader change, on policy and structural-level factors. SBCC includes entertainment-education (EE), a specific communication strategy originally designed by Dr. Miguel Sabido in Latin America, that uses storytelling and education together. He was in fact, one of the keynote speakers! Dr. Sabido, founded entertainment-education after he discovered that education could be woven into media storytelling to impact individuals and communities by using telenovelas broadcast in the 1970's. After his keynote address, Dr. Riley had the incredible opportunity to meet the 81-year-old "father" of entertainment-education, who has guided the field and, in turn, greatly inspired the work of CMSI, which since its inception has been conducting research surrounding storytelling and the positive impact of media.
Other highlights of the summit included a talk by Lillian Dube, a South African actress known for her work on the EE program Soul City and multimedia showcases highlighting media and social impact projects from around the globe. Of course, there was also fun to be had among the work, including an opening reception and a summit gala, which featured a local children's dance group, local cuisine, and traditional music.
The International Social and Behavior Change Communication Summit plans to reconvene in 2020 (location to be announced at a later date).