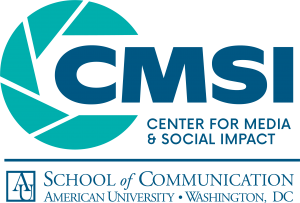 The Center for Media & Social Impact (CMSI), based at American University's School of Communication, is a creative innovation lab and research center that creates, studies, and showcases media for equity, social change, and social justice. Focusing on independent, documentary, and entertainment media, the Center bridges boundaries between scholars, producers and communication practitioners across media industries, social justice, public policy, and public engagement. The Center produces resources for the field and academic research; creates original media; convenes conferences and events; and works collaboratively to understand and design media that matter.
This report was authored by a CMSI team comprising of Kimberly Reason, David Conrad-Perez and Caty Borum and produced with the support of Varsha Ramani.
Story Movements was made possible by the generous support and funding from the John D. and Catherine T. MacArthur Foundation.
CMSI would like to thank all our partners who made this event possible: Planet Word (venue), Immigrant Food and Nouveau Productions (catering), Eaton DC (accommodation), Patrick Telepictures Inc and team (video) and Amir Hamja and team (photography).
---
CMSI Team (From L to R) David Conrad-Perez (Research Director), Kristi Plahn-Gjersvold (Assistant Dean, American University School of Communication), Nick Ray (Website Manager), Varsha Ramani (Operations Director), Bethany Hall (Creative Director, CMSI Comedy Initiatives), Caty Borum (Executive Director) and Aras Coskuntuncel (Postdoc Research Fellow).